Interplay has apparently defeated Bethesda in the initial stages of their lawsuit (Edit: link clarifies the current situation of the lawsuit) and has decided to celebrate by releasing a bit of concept art from Project V13! You can view it on the Interplay forums (have to be a registered user), or you can see it below. Read more after the pic!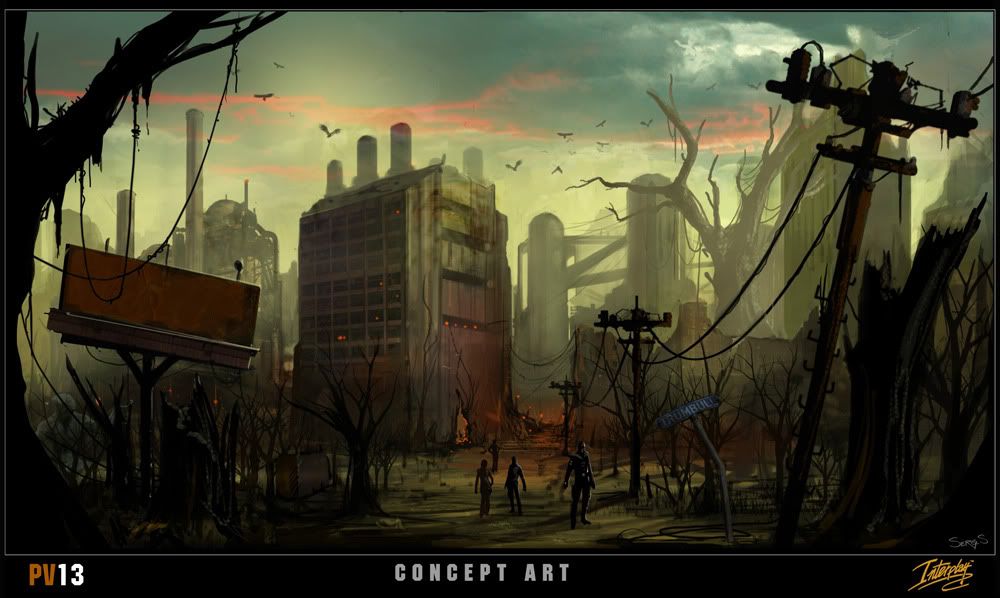 Long-time IPLY investor Frymuchan was gracious enough to let us know about this concept art, as well as some more juicy details:
Interplay released a whole bunch of other concept art as part of their lawsuit, which can be viewed on the official legal website. Interplay also confirmed in their lawsuit that they already have the game up and running in a demo version.
In addition, Chris Taylor posted the following over on the Interplay forums:
Hi everyone!

Some of the concept art for the game has been released due to the lawsuit. This forum will be a place where we can post high quality versions of the same art and you can give us some feedback on it at the same time.

Keep in mind that this is concept art. It's not finalized art, but it will give you a feel for what we are aiming for with V13.

(And I'll keep bugging the lawyers to release more art when we can... I'm pretty excited that we're finally able to show you some of the work that we've been doing up until now.)

Note: Only registered forum members can view the concept art.

pax,
-Chris
Thanks very much again to IPLY long-time investor Frymuchan for letting us know!
Edit: I contacted Pete Hines for to see if Bethesda had anything to say, but this was it:
We don't comment on legal matters.
Expected, but it would be nice to hear both sides of the argument. All we have to go on right now is a bunch of Interplay fanfare.